I. A Messianic Announcement
Isaiah 22:15-25 is a key passage in Isaiah. At first glance, it may appear to be an ancient detail about the inner workings of King Hezekiah's court, one without much relevance today. A deeper dive, however, reveals another of Isaiah's many messianic prophecies. The technical term for Isaiah's making a double prophecy in two entirely different time frames is "synchronicity." This section is a "synchronous" prophesy. Isaiah really does mean the human person Eliakim. And, he also really does mean Messiah.
A Brief Side Note Concerning the Historical Time Frame
First, however, how is it that Isaiah sets the prophecy in King Hezekiah's Day, before the Assyrian invasion? The prior section, Isaiah 22:1-14, made reference to the Babylonian invasion and resultant captivity (see in particular verses 3-4, 8-11, 13; see also Isaiah-Journal 42). That invasion occurred over a century after the Assyrian. Yes, Isaiah has mixed his time periods. He hasn't written in chronological order. He does that frequently.
The primary indication that the prophecy in the second division of chapter 22 occurs before the Assyrian invasion is the fact of the names. Isaiah specifically mentions Shebna (Somnas in the Septuagint) in verse 15 and Eliakim in verse 20. These two names occur together in 2 Kings 18:37 and 19:2. During the account of the Assyrian invasion, Eliakim was "over the household" of Hezekiah, and Shebna was the secretary.
The story that Isaiah relates in 22:15-25 teaches many lessons concerning the pitfalls of pride and the virtues of humble service. A more exciting message Isaiah packed into the passage, however, is the messianic prophecy he makes.
How Do We Know This Passage Is Messianic?
The foremost evidence is verse 22:
Isaiah 22:22 And I will give him the glory of David; and he shall rule, and there shall be none to speak against him; and I will give him the key of the house of David upon his shoulder. And he shall open, and there shall be none to shut; and he shall shut, and there shall be none to open. (CAB, LXE) 
NOTE: The first portion of verse 22, "And I will give him the glory of David; and he shall rule, and there shall be none to speak against him;" is from the Septuagint. The Masoretic textual tradition does not contain these sentences.
Revelation 3:7 and its context indicate that Jesus Christ is the one "who has the key of David, who opens and no one will shut, who shuts and no one opens" (ESV). And, the New Testament is the best Christian commentary we have concerning the Old Testament.
2. The overall tone of Isaiah 22:20-24 is highly positive. God himself speaks (verses 15 and 25). He uses first person ("I") when he bestows his favor upon his servant. Other than Isaiah himself (Isaiah 20:3), only Messiah has received favor in this biblical book so far.
3. Isaiah 9:1-7 is a prior messianic passage accepted by all. The word choices in that passage and this one show significant similarities. For example, consider the following.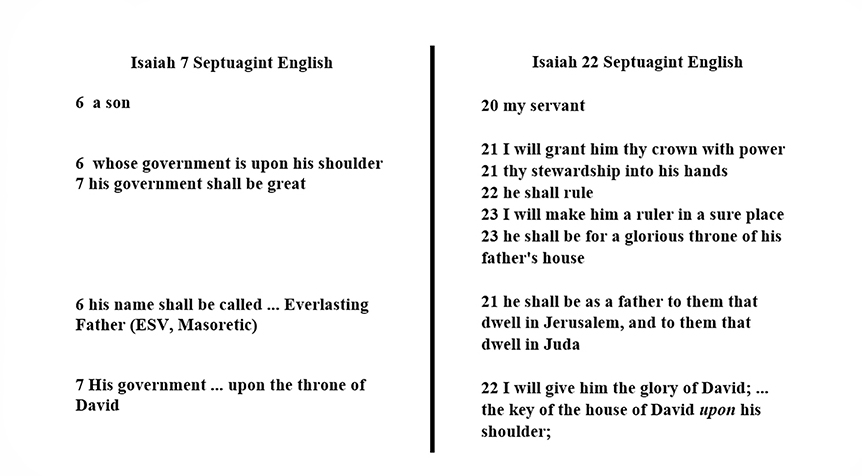 4. Isaiah uses the word "servant" (verse 20) in other messianic passages. This is the first use of "servant" in the book. Just a few of the other passages are: Isaiah 42:1-7, 49:5-6, and 52:13-15. Addition of the word "my" to "servant" adds especial favor. In chapter 9 Messiah is called "son" and here "servant." Jesus Christ was both.
5. The fate of Shebna, the evil, prideful servant, is similar to the fate of Satan.
Isaiah 22:17 Behold now, the Lord of hosts casts forth and will utterly destroy such a man, and will take away your robe and your glorious crown, 18 and will cast you into a great and unmeasured land, and there you shall die; and He will bring your fair chariot to shame, and the house of your prince to be trodden down. (CAB, LXE)
When Jesus, God's true servant, ministered on earth, he said he saw Satan fall from his position in heaven as the chief and most glorious of God's created angels. (See also Isaiah 14:2).
Luke 10:18 And he said to them, "I saw Satan fall like lightning from heaven.
The Glories of Messiah
Eliakim, the human servant, performed well, according to the biblical record in 2 Kings. The glories of the servant Messiah, however, far outweigh the glories of  the human. What does this passage reveal about him?
God is the one who calls his Messiah (Isaiah 22:20). Messiah did not appoint himself. God names him "my servant." As servant, he represents God fully. He serves God, not himself. The servant is clothed in God's authority.
He ministers first to Jerusalem and to the house of Judah, as a father–one who cares. All the characteristics and behaviors packed into the role of an ideal human father are packed into Messiah, as well.
Messiah is David's heir (verse 22). God gives him David's glory and authority. No one is higher than he. The power to "open" and "shut" is awesome in scope and majesty.
God appointed his servant with certainty (verse 23). His position was secure, not to be changed. God backed him fully, gave him his full support. God intended his servant to bear the glory of his own throne. God is his father. Everyone in the Father's house, from the least to greatest, will trust in God's servant-Messiah and be responsible to him (verse 24).
What About Verse 25?
Yes, Isaiah 22:25 appears to dash cold water on everything the prior verses proclaim. But who is verse 25 about? Is it about Messiah? Eliakim the man? Or, could it possibly refer to Shebna, the deposed steward? By way of forewarning, the discussion concerning verse 25 may be considered technical.
TO BE CONTINUED…