Two Outcomes
In Septuagint Isaiah 65:13-16, God alternates between two outcomes for two groups of people. God uses character and action to distinguish between the two groups.
TWO OUTCOMES: THE WHO
God names the group that receives benefits as "my servants" and "my chosen" (ἐκλεκτοῖς). The text never reveals a name for the group that receives condemnation. Isaiah 66:5 ESV, however, labels them as, "Your brothers who hate you." NET calls them, "Your countrymen," in that same verse. There is nothing in the text to suggest that the Lord may be speaking about pagan nations. Within Israel itself, says Isaiah, there are those who rebel against the Lord and will be punished and those who serve the Lord and will be blessed.
TWO OUTCOMES: THE WHAT
The following table summarizes Septuagint Isaiah 65:13-16.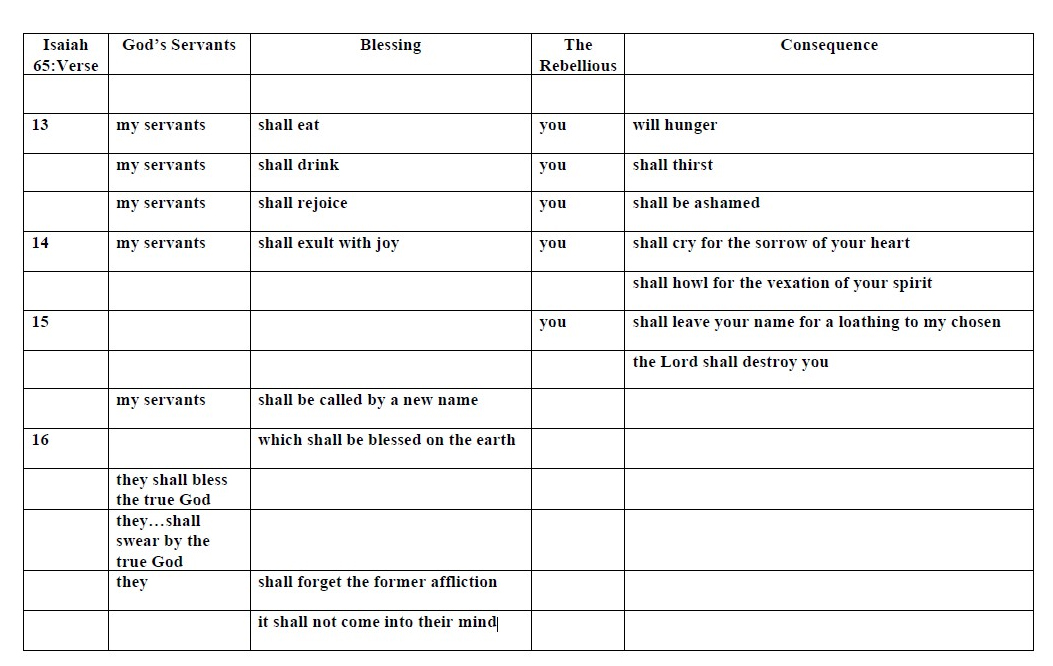 The last column on the right reveals the finality of God's judgment against his disobedient, rebellious people. God's judgment fell in 70 A.D. (or C.E), when the Romans destroyed the Israelite temple. But the seed of Jacob and Judah (Isaiah 65:9), also known as "my chosen" and "my servants," went on in joy under a new name to continue worshiping the ancient God of the fathers (Acts 24:14). They did so in newness of spirit (Romans 7:6) under a new covenant (Isaiah 42:6; 49:6, 8; 55:3; 59:21; Luke 22:20; 2 Corinthians 3:5-6).
But this I confess to you, that according to the Way, which they call a sect, I worship the God of our fathers, believing everything laid down by the Law and written in the Prophets. (Acts 24:14 ESV)
Addendum: New Testament Fulfillment of Isaiah
Two Outcomes: Jesus–Grief for Israel
13 Then the owner of the vineyard said, 'What shall I do? I will send my beloved son; perhaps they will respect him.' 14 But when the tenants saw him, they said to themselves, 'This is the heir. Let us kill him, so that the inheritance may be ours.' 15 And they threw him out of the vineyard and killed him. What then will the owner of the vineyard do to them? 16 He will come and destroy those tenants and give the vineyard to others." When they heard this, they said, "Surely not!" (excerpt from Luke 20:9-19 ESV)
6 And he told this parable: "A man had a fig tree planted in his vineyard, and he came seeking fruit on it and found none. 7 And he said to the vinedresser, 'Look, for three years now I have come seeking fruit on this fig tree, and I find none. Cut it down. Why should it use up the ground?' 8 And he answered him, 'Sir, let it alone this year also, until I dig around it and put on manure. 9 Then if it should bear fruit next year, well and good; but if not, you can cut it down.'" (Luke 13:6-9 ESV)
26 And as they led him away, they seized one Simon of Cyrene, who was coming in from the country, and laid on him the cross, to carry it behind Jesus. 27 And there followed him a great multitude of the people and of women who were mourning and lamenting for him. 28 But turning to them Jesus said, "Daughters of Jerusalem, do not weep for me, but weep for yourselves and for your children. 29 For behold, the days are coming when they will say, 'Blessed are the barren and the wombs that never bore and the breasts that never nursed!' 30 Then they will begin to say to the mountains, 'Fall on us,' and to the hills, 'Cover us.' 31 For if they do these things when the wood is green, what will happen when it is dry?" 32 Two others, who were criminals, were led away to be put to death with him. (Luke 23:26-32 ESV)
17 His disciples remembered that it was written, "Zeal for your house will consume me." 18 So the Jews said to him, "What sign do you show us for doing these things?" 19 Jesus answered them, "Destroy this temple, and in three days I will raise it up." 20 The Jews then said, "It has taken forty-six years to build this temple, and will you raise it up in three days?" 21 But he was speaking about the temple of his body. (John 2:17-21 ESV)
34 O Jerusalem, Jerusalem, the city that kills the prophets and stones those who are sent to it! How often would I have gathered your children together as a hen gathers her brood under her wings, and you were not willing! 35 Behold, your house is forsaken. And I tell you, you will not see me until you say, 'Blessed is he who comes in the name of the Lord!'" (Luke 13:34- 35 ESV)
Two Outcomes: Jesus–Joy for the Servant's Friends
10 If you keep my commandments, you will abide in my love, just as I have kept my Father's commandments and abide in his love. 11 These things I have spoken to you, that my joy may be in you, and that your joy may be full. (John 15:10-11 ESV)
But now I am coming to you, and these things I speak in the world, that they may have my joy fulfilled in themselves. (John 17:13 ESV)
The one who conquers, I will make him a pillar in the temple of my God. Never shall he go out of it, and I will write on him the name of my God, and the name of the city of my God, the new Jerusalem, which comes down from my God out of heaven, and my own new name. (Revelation 3:12 ESV)
Go therefore and make disciples of all nations, baptizing them in the name of the Father and of the Son and of the Holy Spirit, (Matthew 28:19 ESV)
And these signs will accompany those who believe: in my name they will cast out demons; they will speak in new tongues; (Mark 16:17 ESV)
So they took branches of palm trees and went out to meet him, crying out, "Hosanna! Blessed is he who comes in the name of the Lord, even the King of Israel!" (John 12:13 ESV)
And I am no longer in the world, but they are in the world, and I am coming to you. Holy Father, keep them in your name, which you have given me, that they may be one, even as we are one. (John 17:11 ESV)
Comment Concerning Isaiah 65:15 and Names
God named his people in the Old Testament after the youngest of Isaac's sons–Jacob. God changed Jacob's name to Israel (Genesis 32:28; John 1:47). God's people in the New Testament receive their name from Israel's King–who is the Christ. Christians of all ethnicities, including those of Israel, are "followers of Christ", that is, Christians. Jesus greatly encouraged his followers to use "my name" when praying or serving him (Matthew 18:5, 20; Mark 9:39; 16:17; John 14:13, 14, 26; 15:21; 16:23-26).
The Book of Hebrews
On the Destruction of the Temple Religion (70 A.D.)
In speaking of a new covenant, he makes the first one obsolete. And what is becoming obsolete and growing old is ready to vanish away. (Hebrews 8:13, excerpted from Hebrews 8:1-10:14 ESV)
Other Letters
Do you not know that you are God's temple and that God's Spirit dwells in you? (1Corinthians 3:16 ESV)
24 Now this may be interpreted allegorically: these women are two covenants. One is from Mount Sinai, bearing children for slavery; she is Hagar. 25 Now Hagar is Mount Sinai in Arabia; she corresponds to the present Jerusalem, for she is in slavery with her children. 26 But the Jerusalem above is free, and she is our mother. 27 For it is written, "Rejoice, O barren one who does not bear; break forth and cry aloud, you who are not in labor! For the children of the desolate one will be more than those of the one who has a husband." (excerpt from Galatians 4:22-31 ESV)
11 In him we have obtained an inheritance, having been predestined according to the purpose of him who works all things according to the counsel of his will, 12 so that we who were the first to hope in Christ might be to the praise of his glory. 13 In him you also, when you heard the word of truth, the gospel of your salvation, and believed in him, were sealed with the promised Holy Spirit [Isaiah 59:21], 14 who is the guarantee of our inheritance until we acquire possession of it, to the praise of his glory. (Ephesians 1:11-14 ESV)
17 And he came and preached peace to you who were far off and peace to those who were near. 18 For through him we both have access in one Spirit to the Father. 19 So then you are no longer strangers and aliens, but you are fellow citizens with the saints and members of the household of God, 20 built on the foundation of the apostles and prophets, Christ Jesus himself being the cornerstone, 21 in whom the whole structure, being joined together, grows into a holy temple in the Lord. 22 In him you also are being built together into a dwelling place for God by the Spirit. (Ephesians 2:17-22 ESV)
The gospel of Isaiah has been fulfilled in the Lord Jesus Christ and his people.
…Note: I expect an interruption in my schedule. However, please stayed tuned for the next post to come in a few weeks, Lord willing, concerning the new heavens and the new earth of Isaiah 65:17f.